In the last few years I have developed an obsession love with everything English, I think the term is Anglophile. I love watching old, black and white Sherlock Holmes movies, reading Agatha Christie books, collecting English china and linens, and of course drinking tea. It's not tea time everyday, but most days it is and thanks to You Tube, I've learned how to make a proper cup of tea. So, you can bet that love is going to show up in my art…
Supplies used for this whimsical art journal page…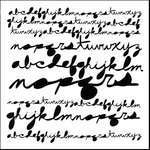 Stencil Girl Jessica Sporn – Tea cups and Tea pots
Americana Acrylic Paint – Raw Umber, Black Green, Cashmere Beige, Gingerbread, Ox Blood
Paper doily
I've been using Tim Holtz Menagerie paper pad quite a bit lately. There are so many designs and colors to choose from! I knew I wanted a very vintage look to the background, so once I adhered the torn pieces, I gave the page a good spray with my mix of Walnut Ink. If you want art journal page or canvas to have an old and tattered look, walnut ink is the way to go. I have the crystals and mix my own into a spray bottle, but Tim Holtz has a great equivalent in Distress Spray in Vintage Photo.
You can see below the "drippy" effect from the walnut ink spray. I love using any stencil that has cursive script and combining it with modeling paste. It gives such an interesting look and dimension. Here I used Ox Blood acrylic paint mixed with modeling paste.
To keep with the time theme, I used the time travel stencil with black green acrylic paint.
The cups were created using Stencil Girl – Jessica Sporn teacups and tea pots stencil. I painted gingerbread and cashmere onto a piece of menagerie paper that had a light script pattern on it, and then cut them out.
I adhered them on top of a piece of paper doily that had been sprayed with Evergreen glimmer mist and walnut ink spray. This gives the look of a table cloth. Proper tea must always be served on a lacy table cloth!
Here is the finished print and how it can look in your home…
I love the whimsical look of this print! It's available now in my shop in an 8″ x 10″ or 11″ x 14″ size.
If you are a fellow Anglophile here are some of my favorite social media sites and shows that are British…
The Anglophile Channel Facebook page, and You Tube
Kensington Royal Instagram page
Escape to the Country tv show that is available on You Tube. Each episode, a couple is followed in their desire to leave the city and move to the English Country side. Scenes of beautiful cottages and countryside.
Mid-Summer Murders on Netflix – No one does murder better than the British! Especially when they take place in quaint villages. This series has been running for an incredible 17 seasons!
Agatha Christie's Hercule Poirot on Netflix – If you love reading Agatha Christie mysteries this is for you. David Suchet portrays the infamous Belgium detective, Hercule Poirot, beautifully.
Acorn TV – Online or via your Roku, like I do. This channel is all British shows (dramas, comedy, mystery, movies) Great deal for only $4.99 a month.
Do you have any special British shows or social media pages I should watch? Please share!
Thanks friends for visiting today!
Blessings,
[mc4wp_form id="17878″]
Please follow and like us: